A BRAND-NEW & CAUSTIC SALTY PAWS IS OUT!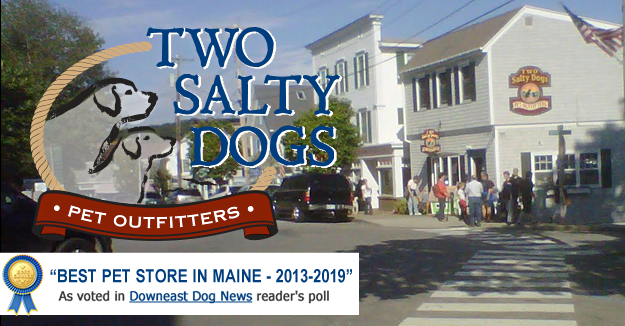 The Salty Paws                             
October 2020
WE DID NOT WIN DOWNEAST MAGAZINE'S BEST OF THE BEST CONTEST.
I suggest every one of you do what I did: Cry in a hot shower for an hour or so and then mail Downeast Magazine the contents of your sink drain every day until they change their minds.
HOWEVER: The Downeast Dog News Best of the Best will be announced in November.
 
---
DON'T FORGET NEXT MONTH IS NOVEMBER AND I'LL BE HARASSING YOU (EMAIL ONLY) TO BUY STUFF ON EARLY BIRD- NOVEMBER 21st.
Please buy stuff from us on Early Bird online because the actual one in Boothbay Harbor will most likely be cancelled and we'll have to sell a dog or two off to medical science so we can afford Netflix... er... pay the heating bill.
 
---
WE LOVE HATE MAIL!
Actual Yelp Review:  ●○○○○  Lousy. Fine little/locally owned place but the person who helped me (the owner I think) is just rude. - Scott M.
Response: Scott, I am honored and humbled to be your first Yelp review way back in 2018. Since then, I see you've done a total of two more reviews- both one-star. I also noticed your other two reviews are positively breathless in scope- with damning personal testimony, ALL CAP RANTS, and scathing demands for refunds.
Forgive me if I get a little teary-eyed, but I can't help thinking that my rudeness that day set you off on a course of Yelp One-Star Greatness. And thanks for sparing me all the long-winded, dreary detail you assailed the other hapless businesses with. That was nice.
Dog Bless.
CLICK HERE FOR SCOTT'S 3 REVIEWS
~ Don (Not a Dog)

The Coal Shack
---
Sniffin' Around
The Boothbay Region



2RPWCITBRLTPGAFBOBBC

--or--

2 Random People Who Correctly Identify This Boothbay Region Land Trust Preserve Get A Free Bag Of Bare Bites Challenge

When: All October Long

Where: At Two Salty Dog's World-Famous Website

You see how I changed the title? Instead of the first 2 people, to correctly identify the BRLT preserve, it's 2 RANDOM people who correctly identify the BRLT preserve. That means you can make a guess on the last day of the month and STILL WIN.

WE ONLY HAD ONE WINNER THIS MONTH.

The correct answer was "Gregory Preserve." Many people guessed Ovens Mouth or Porter's Preserve. I'm guessing because of the bench.

Look guys. Last month there were ZERO winners. This month, there was ONE winner- Jean H.. Just frickin' guess and you might be 3oz of dehydrated beef liver richer. Just Saying....

Test your knowledge of the Boothbay Region Land Trust Preserves in a Do-or-Die, Winner-Take-All Killfest for scrumptious Bare Bites! Good Luck! We'll also announce the winners from last week! Could you have won? Well, not if you didn't play, Sillypants!

 


WE post a photo of a Boothbay Region Land Trust preserve (above). YOU be a person who guesses the BRLT preserve correctly. If your correct guess is drawn out of a filthy gunnysack with all the other correct answers, WE give YOU a FREE 3oz bag of Bare Bites! It's THAT simple! We'll even mail it to you!

 


Click here or on the photo above for a higher resolution photo and email me at: fatmax@twosaltydogs.net with your answer and all the information necessary to steal your identity. One guess per entrant per month, please.

 




 

When:
Thursday, October 15

⋅

3:30 – 5:00pm

Where:
CHANS Home Health & Hospice,
45 Baribeau Drive, Brunswick, ME 04011

Cost:
FREE

PRE-REGISTRATION REQUIRED

 

Midcoast Humane and CHANS Home Health & Hospice's grief and bereavement volunteers are teaming up to offer grief support for pet owners.

These support sessions are open to anyone who is grieving the loss of a beloved pet or who may soon face the passing of a pet. These losses are critical to process and a support group provides a safe, comforting environment to do so.

Please join us to share experiences and stories of your animal companions.

Please call group facilitator Andy Sokoloff at 721-1357 or email asokoloff@midcoasthealth.com

to pre-enroll.

 

 


 

 
 

Max and Aug's Dog Blog
A lot of you have sent me emails about how much you hate my guts for calling Buddy "Big Dumb Buddy."
Of course, none of you ask WHY we call him Big Dumb Buddy.  We started calling him "Big Dumb Buddy" because he's big, he's really dumb, and his name is Buddy.
When we feed our ungrateful beasts, we keep them waiting outside a sliding glass door on our deck. When the food bowls are ready, we slide the door open and let them all charge through to their respective meals. It's pretty much the closest thing you'll see to a buffalo stampede.
One fine day, when Buddy could still run, we hired a carpenter to replace that sliding glass door, and we had to let the dogs through the regular door- on the same deck- into the same room- with their food bowls in the same place.
When we opened the door, the dogs charged for their bowls. Except Buddy. He ran around and around the center of the room whimpering. Liana and I had quite good laugh at our dog who couldn't find his food bowl when let in another door.
We thought it was funny because we thought Buddy would eventually find his food bowl. After a minute or so with Buddy running around in circles, we stopped laughing and looked at each other.
Yep. We had a Dumb Dog on our hands.
Liana caught him by his collar and gently led him to his bowl, where he was ever so grateful.
None of you should think we love him any less than our other dogs because he's dumb. Sometimes that "dumbness" is incredibly endearing.