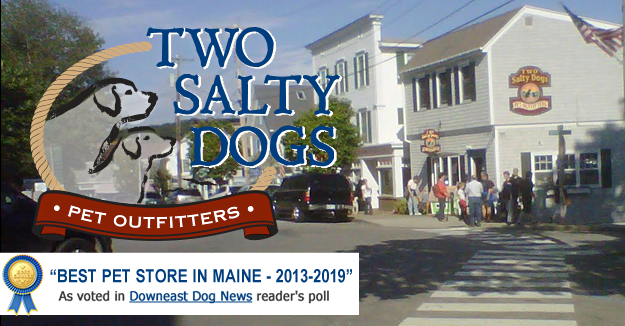 The Salty Paws                             
September 2020
I DON'T KNOW IF:
1) We won Downeast Magazine's Best o' the Best
2) We won Downeast Dog News' Best o' the Best
3) That rash of yours will go away on its own.
4) I should keep using this mask that I accidentally left a roll of lavender-scented poop bags on for about 3 weeks in my truck because my lungs are all inflamed and I can't tell if it's the lavender or The Covids and there are big black dog hairs all over the inside of the mask that just make me want to vomit because they get in my mouth and I keep thinking it must be like licking Buddy for it to taste THAT Dog-Awful.
Stop asking and thank you for your concern.
------------------------------------------------------------------------------------------
WE LOVE HATE MAIL!
Actual Email: "I was just about to purchase 4 of your tartan dog collars until I saw your lovely description of Scottish people. "Haggis eaters". It's good to know how highly you value potential customers. As I don't think you would enjoy all Americans being referred to as morbidly obese burger eaters perhaps think on regarding your stereotyping. I will be spending my money elsewhere now and sharing this on FB to hopefully deter anyone else in Scotland giving you their cash. Merry Christmas."
Response: "Ma'am, I caution you. I AM morbidly obese. I AM that burger-eater you disparage. And yes, I am AN AMERICAN.
I demand satisfaction. As the accused, protocol dictates you journey to Maine where we can settle this like Scotswomen by killing each other with flintlock pistols.
Dog Bless."
~ Don (Not a Dog)

The Coal Shack
Every month I sit here looking at a different picture of My Beloved Coal trying to figure out clever ways to pry your well-guarded money from your tight little fist. Most of the time I fail.
But this time is different. This time I'm going to make all the 10 people who read this introduction cry so hard for all us hardscrabble peasants at Two Salty Dogs that you will just empty your pockets and send me your credit card numbers and passwords. AS DOG AS MY WITNESS, THIS SHALL COME TO PASS!!!!
 
---
Boilerplate:
If you haven't joined us here before, this is the part of the newsletter where we highlight our web-only deals for the month. That's right! These specials are available ALL MONTH LONG, and EXCLUSIVELY to you guys - our rabid newsletter-getters! Of course I throw it up on Facebook mid-month. And if you forwarded this to people you know and they bought stuff with the codes, we would have no way of knowing. So have at it!
And remember all you Boothbay Region Locals - these aren't shop specials. You need to buy them from the website and come in and get them! Or I can mail them to you. Or I can drop them off. Whichever you prefer, just let us know in the "Ordering Instructions" part of your Shopping Cart
---
MYSTERY  PRIZE!!!!

Remember those old 50's TV shows where you could trade all your winnings for what was behind Door #2 or The Mystery Box? This is much lamer and not as interesting because the suspense doesn't build and I can't afford to send you an avocado-green washer / dryer combo.
But by the time I figured out how dumb this offer actually was I had already invested a lot of time in this lame graphic and I didn't have any better ideas.
This was it. This was the BEST idea I had this month.  YAAAWWWNNNnnnzzzzzzzzz..........  I'm not even sure why we're still in business.
ANYWAY.... Spend over $75 on our antique website and we will send you THE MYSTERY PRIZE!!!! What could it be? A can of warm beer? The most miraculous dog treat ever invented? A jar of Buddy's Eye gunk? A picture of Princess Diana signed by me? Pounds of shed dog hair? A stack of $10 bills?
You'll just have to purchase $75 worth of stuff ($75 also qualifies you for FREE SHIPPING, BTW) and enter the coupon code below.
Good luck and Dogspeed.
 
MYSTERY PRIZE!!!!
$75+ PURCHASE - USE COUPON CODE "DOGSPEED"
 
---
When you throw open your doors to the general public, lots of things can happen.
Like the time I let The Kindly Old Man use the shop's restroom. He was very nice and he really had to go. The only trouble was that when I was done helping customers, he had completely destroyed my bathroom and slipped out the back door. I had to close the shop and thoroughly clean the bathroom because of the stink.
Then there was the time a handicapped girl came in. She got out of her wheelchair and sat on our disgusting floor as the dogs ran over to her and started licking her and playing with her. She had such a great time. We got a beautiful handwritten note from her thanking us. It had a bunch of photos and a check for each of the dogs to get a pig ear. Like my fat dogs could use another pig ear.
Why am I telling you this? Mostly it's because I need a lot of copy to get to the end of this photo, and I am not skilled enough to make it about the actual product, but instead ramble on and on about old stories that most people don't find objectionable. But who knows? I could get 20,000 emails objecting to the fact that I let a little girl crawl around on my disgusting floor. There's no way of telling.
I'm at the end of the photo so-- Made with Boothbay Harbor's own Footbridge Brewery's spent grains, and Bare Bites liver powder. Yaddy yaddy yaddy Buy them.
---
Maine's deer hunting season begins on September 12 this year.
Does the thought of 1,000's of minimally-trained Massachusetts and New York hunters charging through the Maine woods with loaded weapons strike fear into the very core of your being? No? You must be drunker than I am.
Think you are safe? Even if you are relatively safe in your underground fortified bunker, there is always a chance that a gaggle (That's the technical term) of hunters "From Away" will kick in your tempered steel door looking for deer and other wildlife to shoot.
I'm not sure what you can do to protect yourself in that situation, but you can protect your dog(s) with these nifty (That's the technical definition) collars and vests.
Or maybe that will make your dog an easier target for the From Away hunters. Frankly, it's tough to tell what armed people From Away will do.
ONE THING I AM SURE OF - These collars and vests are great when you're walking Fluffy at 5pm and it's pitch black outside. They are very visible and reflective. They are made in Maine. They are fuzzy on the inside.
 
---
Sniffin' Around
The Boothbay Region



2RPWCITBRLTPGAFBOBBC

--or--

2 Random People Who Correctly Identify This Boothbay Region Land Trust Preserve Get A Free Bag Of Bare Bites Challenge

When: All September Long

Where: At Two Salty Dog's World-Famous Website

You see how I changed the title? Instead of the first 2 people, to correctly identify the BRLT preserve, it's 2 RANDOM people who correctly identify the BRLT preserve. That means you can make a guess on the last day of the month and STILL WIN.

THERE WERE NO WINNERS IN OUR AUGUST CHALLENGE!

The correct answer was "Lobster Cove Meadows." I know, I know. I usually only use Porter's Preserve or Oven's Mouth. I ran out of pictures for them.

Don't be glum, chum! Get out there and keep your eyes open whilst walking your dog!

Test your knowledge of the Boothbay Region Land Trust Preserves in a Do-or-Die, Winner-Take-All Killfest for scrumptious Bare Bites! Good Luck! We'll also announce the winners from last week! Could you have won? Well, not if you didn't play, Sillypants!

 


WE post a photo of a Boothbay Region Land Trust preserve (above). YOU be a person who guesses the BRLT preserve correctly. If your correct guess is drawn out of a filthy gunnysack with all the other correct answers, WE give YOU a FREE 3oz bag of Bare Bites! It's THAT simple! We'll even mail it to you!

 


Click here or on the photo above for a higher resolution photo and email me at: fatmax@twosaltydogs.net with your answer and all the information necessary to steal your identity. One guess per entrant per month, please.

 




MIDCOAST HUMANE'S DOG BODY LANGUAGE WEBINAR

When: Sunday, September 20th / 10am - 11am

Where: ONLINE

Cost: $25.00 (US)
 

Your dog is talking to you – are you listening?
 

Learning your dog's language will help you recognize when your dog is nervous, stressed, or becoming uncomfortable. Often, we do not understand these signals and are unable to intervene when needed and prevent over-arousal, fights, and bites. We'll discuss dog body language as well as appropriate greetings and play. Come find out what your dog has been trying to tell you!
 

This will be a live, online presentation with time at the end for Q & A. Register today and enjoy this seminar from the comfort of your own home!

To register, please visit:

https://form.jotform.com/201394610715046

After registering you will receive an email with information about connecting to the webinar online.

Meet Your Instructor

Jessica Greenleaf is a lifelong animal lover and has been working professionally with family pets since 2014. She is committed to helping owners understand and communicate with their dogs so they can build a stronger bond and a better life together. Jessica believes training should be fun for both the owner and the dog, and she uses positive training techniques to encourage dogs to think and learn.
 

Jessica is a certified dog trainer (ABCDT) through Animal Behavior College and she is trained and certified in Pet CPR and First AId.

 


 

 
 

Max and Aug's Dog Blog
Have you heard of something called "Facebook?" Apparently, it's a "social media platform" that billions of people across the globe use like narcotic-addicted monkeys every single day.
I admit that OCCASIONALLY, I will imbibe a fair amount of whiskey and turn into the most awful Facebook Troll you can imagine. And before you jump to conclusions about my political leanings, you should know that I only troll fashion pages, and I can be quite the bitch when it comes to culottes and khaki.
And when my tauntings cross the line of clearly-established fashion decorum, I am banned from posting for a determined amount of time. It's called being "Zuckered" in the parlance of our time.
What in the Holy Holes of Heck does this have to do with this month's Dog Blog?
Apparently Auggie feels trod upon by "Facebook" and has written a letter to Mr. Zuckerberg regarding the functionality of his social media platform. I think you will find him obsequious to Mr. Zuckerberg in the extreme.
 
So grab a cup of cocoa or fortified wine and click on "
Zuckerstruck"
-by Augustus M.B. Kingsbury.