Boothbay Craft Brewery, Tavern & RV
Temporarily Closed EXCEPT POPUP EVENTS! REOPENING APRIL 13TH!
POPUP EVENTS: https://www.exploretock.com/boothbaycraftbrewery/
Boothbay Craft Brewery, Taphouse & RV is one of the most unique craft beer destinations, offering a complete stay, drink & dine experience in one relaxing and entertaining location. 
Our Taphouse features a creative menu of Farm-to-Table wood-fired flaming skillets, burgers and flatbreads, signature character cocktails, a world-class atmosphere, and of course, some of Maine's finest craft brews! For a truly unique experience, come find the hidden door to our speakeasy bar & game room!
Travelers of our RV resort enjoy a convenient and fun experience as they settle in next to our brewery, entertaining Beer Garden, and Taphouse. Full hookups, high-speed WiFi, and the best hospitality around. There's no doubt you'll find Boothbay Craft Brewery, Taphouse & RV one of your favorite coastal Maine experiences. Cheers!
Our History:
The idea of a true authentic neighborhood brewery & tavern has been a passion of ours since 2005. After managing a bustling seasonal lobster wharf we realized that ownership and absolute authentic realationships was what made a place great. We wanted to bring it down to a more personal, neighborhood level and create what we all have read about. It existed long ago in the days that helped shape our communities and our country. A cozy rustic farm-to-table tavern!
In 2009 we started to build our vision of a tavern using the important basic ingredient, community. We wanted to create a true "public house", where conversations and visions for positive change in our hometown and country are ignited. It is small, well built with real homegrown timbers, sawn off our very own sawmill from trees donated by enthusiastic supporters of our project. Having a brewery that produces fresh local beers made in the stalwart tradition of hardy Mainers, served with classic, simple, yet flavorful all-natural foods in a warm friendly atmosphere.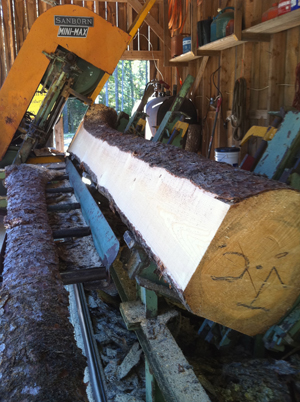 Heavy post and beam construction is a signature of a Mitchell built structure. The beams are adorned in carvings that proclaim their donor or place of origin. Milled on our very own sawmill, handcrafted with generational tools handed down by our fore-fathers ( that now adorn our hidden speakeasy game room). Hand fitting the joints and carving the names makes it real and makes it an example of our community.
It is this community mindset that has made our little "off the water" neighborhood tavern so special. Do we have an amazing view?.. yes, but it's not the ocean or a mountain skyline,... it's your friends, family or co-workers playing bocce, cribbage, or throwing the "brass ring",... laughing, eating superb foods created alongside great local beer, a cozy atmosphere, live entertainment... all that, and more!
The Boothbay Craft Brewery, Taphouse & RV is one of the most unique stories and places to enjoy. Come experience it with us. Cheers!
View our Recent Posts:
There is no content in this group.