60th Boothbay Harbor Windjammer Days Festival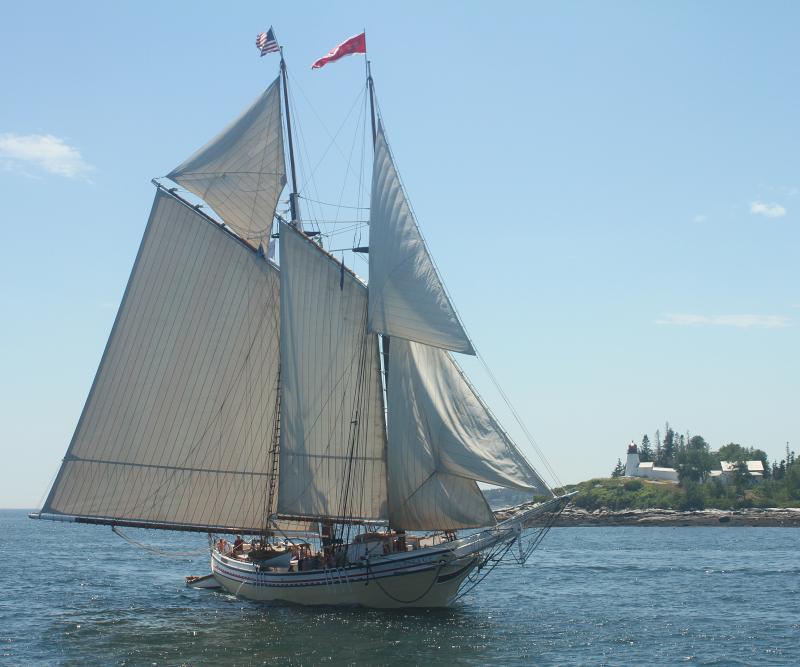 Schooner Heritage sails by Burnt Island.      File photo
There's the Blessing of the (commercial) Fleet to kick things off on Sunday and the Gathering of the Fleet is on Wednesday when visiting and local schooners sail in and drop anchor. The Antique Boat Parade features a fleet of a different kind – classic pleasure cruising vessels. This year, the Antique Boat Parade is followed by a Pier Party at Bristol Marine with live music, food, boat viewings and shipyard tours. The party is a ticketed event.
Harbor Aglow is the new name for the Lighted Boat Parade event, which is preceded by boats anchored around the inner harbor to light up an hour prior to the parade.
There are two trips out to Burnt Island for a new kind of living history tour led by four of its former keepers - not all at once, of course!
Boat trip companies Balmy Days Cruises and Cap'n Fish's Cruises add special trips on Tuesday, June 28 and/or Wednesday, June 29 to see the windjammer fleet in local waters – and for the fireworks display Wednesday night. Or … sail on local vessels Eastwind,  Lazy Jack, Tyrone, Isaac H. Evans or the Agness and Dell to really be part of the scene! Visit their websites for details.
Remember the Street Parade? Well, it's back after a two-year absence – and it will  be amazing – believe it!

Competitions galore: Codfish Relay Races, Lobster Eating Contest, Boothbay's Got Talent (an online event again this year), Rock Skipping Contest; and also returning after a two-year absence ... the Tug of War Across the Harbor!
Those fun-loving rogues, the Pirates of the Dark Rose, are coming back for another year of mayhem for adults and kids alike. Events just with kiddoes in mind – Kids Alley and Boothbay Harbor Memorial Library's Windjammers for Wee Mateys are back. 
The two-day Artists' Alley returns, with paintings, jewelry, sculpture and more. There's a special Burnt Island History Tour with former lighthouse keepers sharing stories about their duties as keepers as well as a few anecdotes (some are sure to be of the ghostly variety); speaking of history and ghosts, don't miss the opportunity to go on one of the three Haunted History Tours presented by American Ghost Tours/Red Cloak.